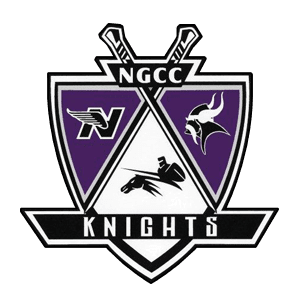 Home of the NGCC Knights
News & Announcements
NGCC Outdoor Rinks

Work has stalled due to the weather on the 2 rinks at the Norberry site as well as the 2 rinks and pleasure skating oval at the Glenlee site, but we are hoping for snow and colder weather this weekend so we can get things going again! Our aim is to have practices start later this upcoming week. Once we are able to open the ODR's, we will post it here!

NGCC Breakfast with Santa

Come and join us on Sunday, December 10th from 11 am to 1 pm for a FREE pancake breakfast! Lots of family fun to be had!

Registration is NOT required – just show up with your family. The crew from RE/MAX Performance Realty will be ready to serve you a pancake breakfast, and there will be other fun things as well.

Welcome to our new website!

We are very excited to roll out our new and improved website. Many of the features and directories are the same as our old website, so navigating through the sports, programs, rentals and other information is easy. The home page is the place to be for new information and upcoming events, so this is definitely the page you want to bookmark and check in to see what's happening at NGCC!

Our calendar is new and improved and now includes tabs for the Multipurpose Room (MPR), the Gym and the Main Hall. Our monthly board meetings are also available! Once you click on "Full Calendar" underneath all the events happening on that day on the right side of the page, you can either click on a specific room to just see the rentals for that space, or don't click on anything, and you will see the entire schedule for our facility – all you need to do is click on the month you are interested in.

If you are interested in renting a space at NGCC, at the bottom of the Main Hall, Gym and MPR pages, there is a place to send in a request and get a quote (based on info provided). This will go directly to the office and will be answered in a timely fashion.

Over the next few weeks we will be updating some pictures and adjusting some text here and there. We are also going to be working on the e-commerce part of the website, which we hope to have running by the end of the year. This will enable you to pay for different things online.

Fitness Classes / Programs at NGCC 

NGCC offers Light & Lively Fitness classes on Monday and Friday mornings. For more information on these classes, click here. Sessions begin in January, March/April and September.

NEW PROGRAM! Traditional Karate Winnipeg offers Traditional Shotokan Karate classes commencing Thursday Sept 21st. Training mandatory twice weekly for children, youth and adults (minimum start up age is 8 yrs.) For more information, visit their website or email them here to register.

Peg Family Fitness offers a Prenatal Yoga program here at NGCC. Visit their website here.

Prairie Dynamic Baton Club offers classes on Thursday's in the Main Hall from 5:45-6:30 pm. Contact them by email here.

JAM Winnipeg hosts different sports in our gym in the evenings throughout the year. JAM Winnipeg

Lullaland offers weekly baby and toddler sensory classes that are fun for both babies and grown ups!  Classes are suitable for babies from 6 weeks of age and the instructor-led class is 45 minutes long.  These sensory classes are a great way to help babies reach their development milestones while also giving parents time to connect and make new friends.  For more information visit their website here.

South East Martial Arts is held weekly at NGCC. More information is available by contacting Coreen at 204-781.7888.

Dodgeball Winnipeg is the largest dodgeball league in the province, and soon to be in the country. The league offers recreational, intermediate, and competitive divisions. Sign up as a team or as an individual. All games have a referee to ensure games are safe and fair. Dodgeball is a great sport to stay active, meet new people and have fun! For more information visit the website at www.dodgeballwinnipeg.com or contact .
For specific information about our Boundaries, Payment options and Subsidy information, click here. To see a map of our boundaries, Norberry-Glenlee CC Boundary .