History
NORBERRY-GLENLEE COMMUNITY CENTRE HISTORY
Officially on June 12, 2006, Norberry-Glenlee Community Centre (NGCC) came to be through an amalgamation of Norberry and Glenlee Community Centres. Preceding that date, there were many months of meetings and discussions, which involved both Boards as well as the community at large. Since then there have been growing pains, but we have persevered and become one community centre.
In the fall of 2009 we will be back in the newly renovated and expanded Norberry site at 26 Molgat Avenue off St. Mary's Road. The expansion features not only a full-size gymnasium but a new canteen, bar, washrooms, multi-purpose room and office. The Glenlee site on Worthington Avenue will continue to be our satellite site, with the 3 rinks and 2 ball diamonds remaining along with the Walter Jennings Sports Facility (WJSF).
We are presently working on a Field Re-development plan for the fields at the Norberry site. This will be a huge undertaking and will provide us with new fields to replace the small and poorly drained diamonds that are there now, and to better address the needs of the community and our members. Once that is completed, we hope to be able to forge through with Phase 2 of the Building Project, which will be an Indoor Multi-use Facility that can be used by our Soccer and Ball teams.

GLENLEE COMMUNITY CENTRE HISTORY
Glenlee Community Centre was established at the corner of St. Anne's and Worthington Avenues in 1951. It was a vibrant club with lots of activities, volunteers and well known "Dances" that offered the youth in the community an opportunity to get-together and dance, which was an important part of life back then! Bingos and fundraisers were held to make improvements and to save for the building of the Main Hall, which eventually moved a block down Worthington after the land at the corner was sold in exchange for the balance of the money needed to build it. Once the money was in place, Walter Jennings, Bill Graham, Bob Anderson, Fred Peters and many, many more volunteers began building the Main Hall which still stands to this day, strong as ever!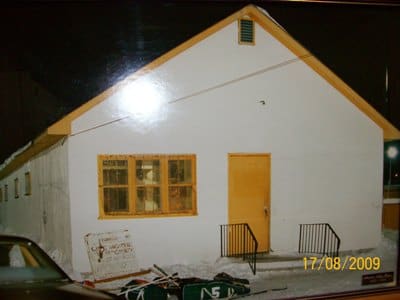 Once that building was established, the old clubhouse was transformed into a change facility and actual rinks with real rink boards (not snow) were built along with the diamonds and backstops. As with all community centres, all this work was done with and by volunteers, who still remain an important part of community centre life to this day.
In the early 1980's, Walter and his crew of volunteers on the Board began to raise money and create plans for a new skate change facility in between 2 of the rinks. In 1987, their plans came to fruition and the "Skate House" was born. No longer would parents have to freeze outside to watch a game or practice, as you could be inside and watch the action on 2 of the 3 rinks at the site!
In 1996, after 45 years of service to Glenlee Community Centre, Walter Jennings retired from the Board of Directors. At that time, in recognition of his past service, the "Skate House" name was officially changed to the "Walter Jennings Sports Facility" or the "WJSF". This building will continue to "hold the fort" at the Glenlee site for those coming to use the rinks and diamonds in the many years to come!
NORBERRY COMMUNITY CENTRE HISTORY
The Norberry Community Centre beginnings date back to 1949—a converted boxcar was the first club house; an ice rink on Havelock Avenue was the first sports facility; John Chivers was the first President; the Sashay Eight Square Dance Club was the first dance program (they worked hard to get the "Club" started); and a dance-on-ice was the first event (admission was only 10 cents). Norberry was a popular, busy place and soon outgrew the early facilities moving to the St. Mary's Road site then on to the current location at 26 Molgat Avenue.

Norberry was a great place to play sports and many young athletes proudly wore the distinctive blue and white Norberry Royals uniforms. In the beginning, the rinks and fields were busy with hockey and baseball. Over the years, ringette, softball, soccer, lacrosse, football, judo, karate, tae kwon do, and bowling programs were added. The most recent addition to the sports programs was basketball in 1998.

Dancing was another popular offering at Norberry. Through the 60's, 70's, and into the 80's, monthly dances regularly drew capacity crowds. Norberry was home to the McConnell Dancers for many years. More recently, square dancing returned and clogging classes expanded.

Programs have appealed to all age groups. Tiny Tots offered the youngest members of the community the opportunity to learn new skills, socialize, and make new friends. The Red River Seniors meet weekly at the Centre to play cards and visit.

For almost 50 years, the Norberry Spring Carnival was the most exciting place to be in May. The midway was one of the best in town. Sports tournaments, grocery and toy scrambles, street volleyball and other activities lasted all day. Spectacular fireworks capped the day—people came from all over the City to watch.

The Winter Carnivals and New Years Galas were always special events. Needless to say, the Norberry Carnival Queens were the most beautiful! New Years celebrations were always sell-outs; those who managed to get tickets were greatly envied.

Bingo was a major source of revenue, starting in 1964 until finally closing in 2003. The recycling program, while small in scale, was important for the funds it generated as well as the lessons it taught.
Norberry Community Centre is a place of shared experiences, memories, stories, lessons learned, and people. It has been the heartbeat of our community. Without the multitude of dedicated volunteers to run the centre and the programs, working tirelessly fundraising to support them, none of this would have been possible. Skills were developed and leaders grown; "rink rats" became community leaders; and with parents as coaches and teachers children achieved success in sport and life. Norberry has been a catalyst.

In 2006, with Lisa Sinclair as the President, Norberry decided to join with Glenlee to form a new community centre and build a modern facility for the future. The experiences of the past built a solid foundation for the exciting challenges and opportunities ahead.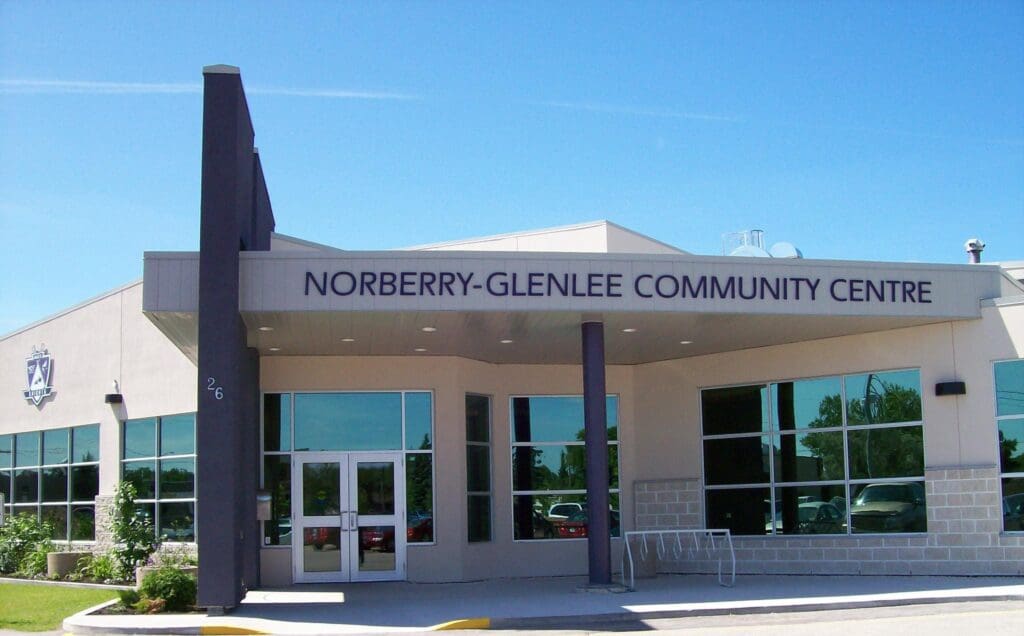 Directors
BOARD OF DIRECTORS 2023-2024 | Norberry-Glenlee Community Centre
| | |
| --- | --- |
| PRESIDENT | Sean Fedorowich |
| PAST EXECUTIVE | Donna Jubinville |
| VICE PRESIDENT-Programs | Geordie MacKenzie |
| VICE PRESIDENT-Operations | Keith Guay |
| SECRETARY/TREASURER | Pam Campbell |
| | |
| SUMMER SPORTS DIR. | Curtis Ste. Marie |
| WINTER SPORTS DIR. | Andrew Fiala |
| | |
| COMMUNITY LIASON | Patrick Frovich |
| SPECIAL EVENTS | Rachel MacKenzie |
| SPECIAL EVENTS | Tiffany Creaghe-Harder |
| SPORTS EQUIPMENT DIR. | Rachel MacKenzie |
| RENTALS/CONCESSIONS | Sarah Fedorowich |
| | |
| MEMBER-AT-LARGE | Margaret Limqueco |
| MEMBER-AT-LARGE | Madison Zienkiewicz |
Constitution
By-Laws
Location
Glenlee Site
176 Worthington Ave.
Winnipeg, MB.
Norberry Site
26 Molgat Ave.
Winnipeg, MB.